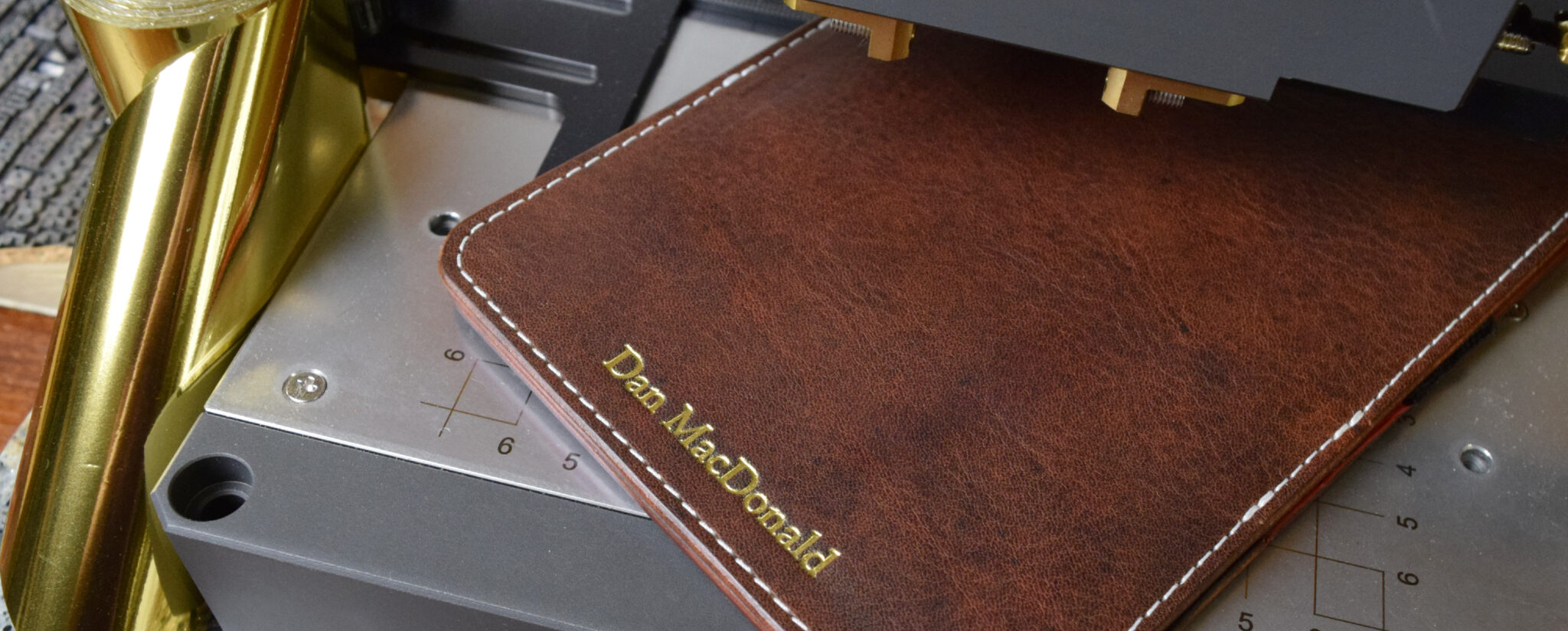 Your Vision, Our Craftsmanship
Unleash your imagination with our customizable leather goods, expertly crafted to bring your vision to life. Choose from an array of colors and add the finishing touch with debossed or foiled text.
Celebrate Your Individuality through Personalization
Embrace your individuality by personalizing your leather goods with our wide range of customization options. Our handcrafted leather products offer the perfect canvas to express your unique sense of style. Experiment with different combinations of premium Italian leather colors, thread, and elastic options, and add an extra layer of personalization with debossed or foiled text.
Customized leather accessories not only showcase your creative side but also serve as a symbol of your appreciation for fine craftsmanship and quality materials. Each personalized piece is a reflection of your distinct personality and an expression of your unparalleled style. Discover the joy of owning a leather accessory that's truly tailor-made, capturing your essence and elevating your style.
Premium Italian Leather: The Foundation of Your Custom Piece
Our premium Italian leather serves as the cornerstone of crafting high-quality accessories that stand the test of time. By using only the finest materials, we ensure that your personalized accessory exudes luxury and sophistication. The beautiful texture and richness of the leather not only enhance the appearance of your accessory but also provide durability and functionality, making it a perfect companion for daily use or special occasions.
Discover the distinct characteristics of our available leather types, including Buttero, Waxy, Nemesis, and Minerva Box. Each leather type comes in a variety of colors, allowing you to create a custom piece that truly reflects your style. Whether you prefer the smooth finish of Buttero or the rich, pull-up effect of Waxy leather, our collection offers a range of options to suit your preferences. Mix and match colors to design an accessory that is uniquely yours.
Accentuate Your Design with Distinctive Threads
The thread colors used in your personalized leather accessory play a vital role in expressing your unique style. With our distinctive thread options, you can effortlessly accentuate your design and create an accessory that truly represents your individuality. Selecting the perfect thread color is key to crafting a custom piece that resonates with your personal aesthetic.
We offer many stunning thread colors to suit a wide range of tastes and preferences. Crafted from durable nylon or polyester, these threads are not only visually striking but also built to last. Experiment with different color combinations to create an accessory that highlights your creativity and showcases your unparalleled sense of style.
Add Your Signature Touch with Custom Text
Adding personalized text to your custom leather accessory is the ultimate way to create a one-of-a-kind piece that is truly yours. With our range of custom text options, you can choose from debossed or foiled text in gold or silver, allowing you to make a bold statement or add a subtle touch of elegance to your accessory.
Whether you opt for your name, initials, or a meaningful quote, your personalized text will not only elevate the design but also make your accessory uniquely yours. This level of customization highlights your appreciation for fine craftsmanship and attention to detail, creating a leather piece that tells your story and showcases your distinct style.